First Timer Skirt Pattern Release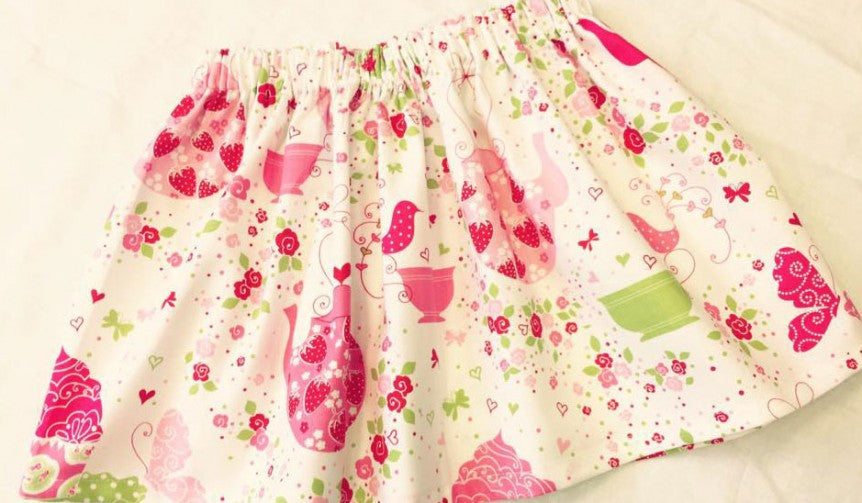 We are really pleased to release a free pattern, the First Timer Skirt, for all our sewing community, but particularly those beginners who are taking their first steps towards the joy of sewing. Its simple design means it is cut from one piece of fabric and features a comfy elastic waistband that is simple to construct. Sizes 1-5 are available.
Above: Wool first timer skirt by Rachel (Bubbles & Butterflies)
Once you have mastered the basic skirt, let your imagination run wild to create your personalised individual look:
Dress it up with trims & lace on the hem or bottom third of the skirt
Add a paper bag waistline
Add a ruffle to the hem of your skirt
Create either vertical or horizontal panels on your skirt to use up scrap fabric
Adapt for the season with varied weighted fabrics
Make a matching head wrap or band out of your left-over fabric
Or stick with simplicity. The best thing about an uncomplicated skirt is letting the fabric steal the show!
Above: First Timer Skirt by Kate Hanly
If the girls in your life are anything like our daughters, you cannot have enough skirts! They give a little gal a bit of style while providing lots of room to move for all of the amazing adventures they get up to in one day! Check out our amazing tester versions for inspiration and get your new pattern here.
L to R from top: Moocuzzi, Monika Hood, Penny Petite Handmade, Bubbles & Butterflies, Tilda & Birdie, My Little I Designs
We hope you enjoy this pattern and don't forget to share your creations in our Fresh Pattern Party FB page.
--- Article written by Nicola Falconer for Tadah! June 2015 ---
---
Leave a comment
Comments will be approved before showing up.