Chillax Pants: All You Need to Know about Slouchies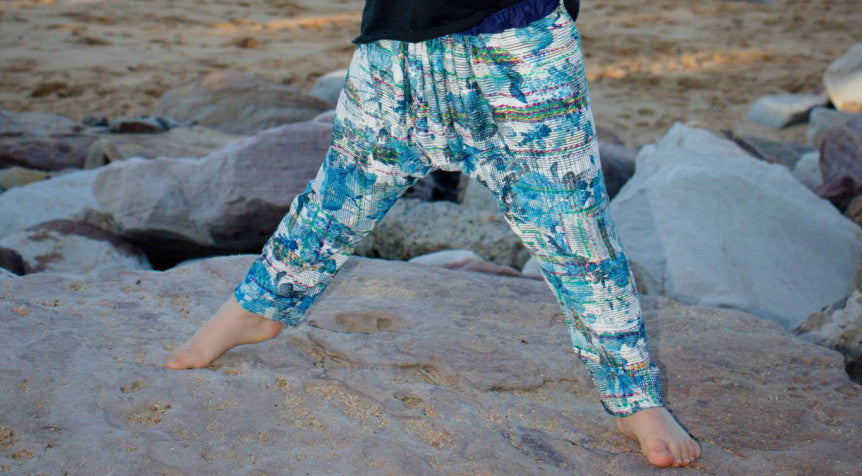 We're so glad that you guys love the new Chillax pants pattern and that three days after launch so many of you have already sewn and shared your amazing new creations!
On Facebook we've noticed two questions popping up regularly about the pattern:
1. Are they for boys as well as girls?
2. What fabric do I use?
Today we want to share with you some answers to both. So let's get started!
Above: Gorgeous little boy slouch pant sets by Sweet Fable
Slouchies for boys?
Absolutely, this pattern is for boys and girls from ages 0000 - 14.  You can't get cuter than these! And oh so comfy!
Above: Little boy slouchies by A Little Love from Leila
And for boys on their feet:
Above: Slouchies by ShanMa
Which fabric is best?
We put it to our experienced testers to find out which fabrics they found worked best for each Chillax pant style. The verdict was pretty consistent for the Slouchies that quilting cotton is out and drapey, knit fabrics are in. So this means: rayon, voile, lawn, sateen, double gauze, crepe, cotton lycra, jersey knit, and other light drapey fabrics all get a big tick of approval.
Above: Slouch pants in Rayon by RD Threads
Above: Slouch pants in knit with Darling top in chambray by My China Dolls
Above: Slouch pants in knit with cotton jersey waist and pockets by Daisydoo
Not sure where to buy knits from? Check out these sweet Art Gallery options available at Muddy Ruffles:
Or this new range of Zonen 09 jersey knit available at Maai Design:
Want to sew with one of those other fabrics we mentioned above but don't know what you're looking at? Then maybe the Fabric for Fashion Guides are for you. Jen from Grainline has written up a great review of these double must-have references. They're on my Christmas list!
We'll be back later to discuss Harems and also to give you some tips on sewing with knit!
xx
--- Article written by Nicola Falconer for Tadah! August 2015 ---
---
Leave a comment
Comments will be approved before showing up.