A Frozen Celebration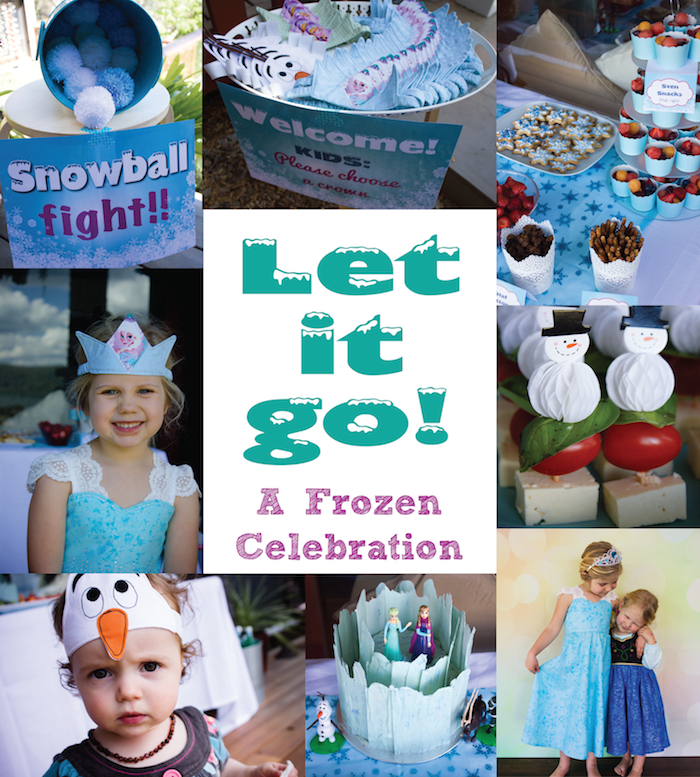 As I start to prep for party season (my girl's birthdays are a month apart), it made me reflect on the parties we have had in previous years and I thought I would blog about a few of them in case you are in need of some ideas or inspiration!
This is a photo-heavy and wordiness-light post (just the way I like it!) about the party we threw for my two gorgeous girls last year. Really, what better theme could there be for two girls to have a shared party?!
Here are some shots of our Frozen extravaganza :)
When the guests arrived, the kids each collected a crown (made using the FREE Comfy Crown pattern which you can find HERE)
I didn't get the greatest photo of the set up (was too busy running around like a chook with no head!) but you get the idea from this one.. We decided to go for a 'balloon free' party so the decorations were all tissue paper (tassles, pom poms and snowflakes sewn end to end hanging from the pergola).
The biggest hit at the party (besides the arrival of 'The Real Elsa') was the snowball fight - the kids went nuts and had SO much fun. The snowballs were made very easily with some cheap wool and a pom pom maker - perfect craft to do in front of the TV.
The menu was all Frozen themed of course!
Kristof's Ice Picks (Basil/Feta/Tomato picks)
Coronation Salad
Veggie Sticks with a 'snowman' hommus in the middle
Sandwichs ("We finish each others...")
Sven Snacks (fruit cups)
Olaf arms (pretzels)
Olaf buttons (Sultana's)
Snowflake Cookies
Crackers with snowflake cheese
Melted Olaf (iced water with a carrot and two grapes in it)
Frozen Waters (Mint/Blueberry lemonade)
I loved seeing how excited the kids were when 'The Real Elsa' arrived. She had them in stitches for an hour and a half! If you are in Sydney - I VERY highly recommend Stardust Kids for party entertainment.
And finally (of course!) some photos of our beautiful birthday girls in their mummy-made dresses. Asali (Anna) wears a yet-to-be-released dress design.. Isla (Elsa) wears a modified Amor Dress - I changed it to a closed back, used a semi-circle skirt, used lace for straps and added little cap sleeves. Both dresses were embellished using hotfix rhinestones for a little extra bling!
Oh, I almost forgot! The CAKE!!! This was a bit of a mission.. Time consuming, but not particularly difficult. I followed the recipe from Disney Kids Party Cakes (which you can purchase HERE). So chuffed with how it turned out!
We all had such a great day and were utterly exhausted by the end of it! What has been your favourite planned party? Tell us about it in the comments below :)
Until next time,
Lauren x
---
Leave a comment
Comments will be approved before showing up.