Halloween Tea Party - It's a Thing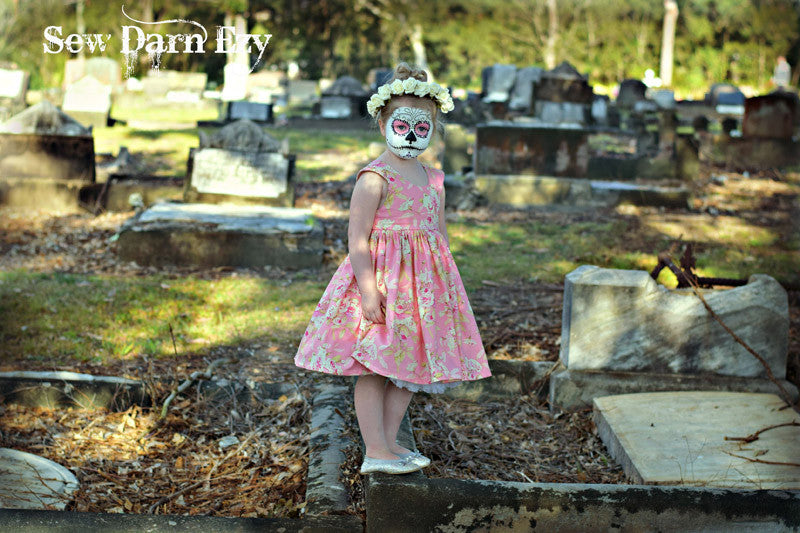 Been wondering what to make for Halloween? Well, look no further for inspiration. A regular pattern with the right fabric can have a stunning effect.
During our testing phase of the Tea Party dress, Cathie from Sew Darn Ezy gave us a real treat by sewing up two dresses in a Halloween theme. Cathie and her daughter Cindy are the dynamic duo behind Sew Darn Ezy and they are one of the most humble teams we know at Tadah whilst being extremely talented and creative!
Cathie is here to tell us candidly (with her fantastic humour) about the Halloween costume making and photo shoot…
***
Tadah: What drives your business?
Cathie: The passion behind our business is simply us: my daughter Cindy and I.  We both have the same love of creating with our hands and the sense of accomplishment once we are done.  Both of us are the same star sign, Aries; some say that means stubborn and pig headed, lol. We see it as our drive to always be better; we encourage each other with the sky as the limit.
Tadah: How do you come up with your ideas?
Cathie: Actually, one of us gets a stupid idea and between us we nut out how to achieve it, then before you know it we are at the Cemetery having a tea party among the graves! lol.
Tadah: Where does the sewing bug come from?
Cathie: I had a very creative grandmother and fortunately for me she passed some of her crochet, knitting and sewing skills on. I spent all of my school holidays with her and I was designing and making Barbies clothes at the age of about 5, while we snacked on dripping on toast, played Cribbage and watched Perry Como in Payton Place.
I guess my Nan, teaching me through love, showed me how special the gift of hand crafting really is. She was my inspiration for life, my safety net and my constant. I want to give that to others also.
It is important that these skills don't die with this generation. I guess some people would see it as the old fashioned way to do things but I think that Cindy and I try hard to combine the old with the new.
Tadah: How do you approach your photo shoots?
Cathie: Cindy is our photographer. We had a wonderful friend doing our photos for a few years, but things got too busy for both of our businesses so Cindy stepped up with a second-hand camera she was given by her step-father-in-law.
Honestly we are clueless, she takes about 1000 shots and I sit and edit. Every now and then we sit and say ok... let's photograph in the shade... let's try this angle... let's do this in the sun... I think you get the gist!!
Tadah: Who are your gorgeous models?
Cathie: Piper, our main model is a wonderful friend of the family's. She learns dancing so we get many very odd poses but she has helped us for four years so we know each other well and what we all like. Her mum is brilliant and goes along with all our hair-brained ideas lol! The ghouls in the background are Ebony (Cindy's daughter) and Mason (Piper's brother). And our little boy model is my grandson Leo.
We let the kids do their own thing mostly; we get the most candid shots with them forgetting that there is a camera at all. Can you spot Mason the ghoul below? It's as if Piper senses he's there one minute but he's gone the next! Spooky!
Tadah: The face-painting is outstanding in this shoot. I thought they were wearing masks to begin with!
Cathie: Cindy did all the face painting, makeup and hair-dos. She gets an image in her head and usually runs with it... I am in the background barking orders and I usually get angry on photo days... I have usually been up all night finishing hats and accessories and come time for photos I lose it…
Tadah: Did anything go wrong the day of the big shoot?
Cathie: We had spent all day getting the last of the things made and gathered together, the kids faces done etc and then we were 5 minutes off leaving home and the sound of thunder was heard. We had no backup plan for this day at all. We drove up the hill, 2 minutes from home, and watched the huge storm of lightning and hail scoot out over the ocean... Fair dinkum it must have missed us by just a couple of miles. I couldn't believe our luck.
Tadah: Did you make any alterations to the dress?
Cathie: The pink Tea Party dress has the scooped back, the small cap sleeve and the scooped neck. I also added a sash. The skull dress I added a lawn (or batiste) petti-skirt to the waistband seam (see above).
Tadah: Any special sewing tips for the readers?
Cathie: If I am making a special dress I hand pleat my waistbands. I attach the outer skirt to the main bodice and the liner or petticoat to the bodice liner so they kind of float apart from each other.
Tadah: And finally, for those inspired by your fabric selections, can you give us some details?
Cathie: The pink floral dress is made from Rose Garden by Martha Negley. And the skull dress and Troop shirt Resting in Roses, Alexander Henry Fabrics.
*** 
Interested in seeing more of their work? Jump over to the Sew Darn Ezy store on Facebook.
Need the patterns featured here today? You're two sweet clicks away from the Troop shirt pattern and the Tea Party dress pattern.
xx
--- Article prepared by Nicola Falconer for Tadah! October 2015 ---
---
Leave a comment
Comments will be approved before showing up.