Boxing Day SALE 2016 !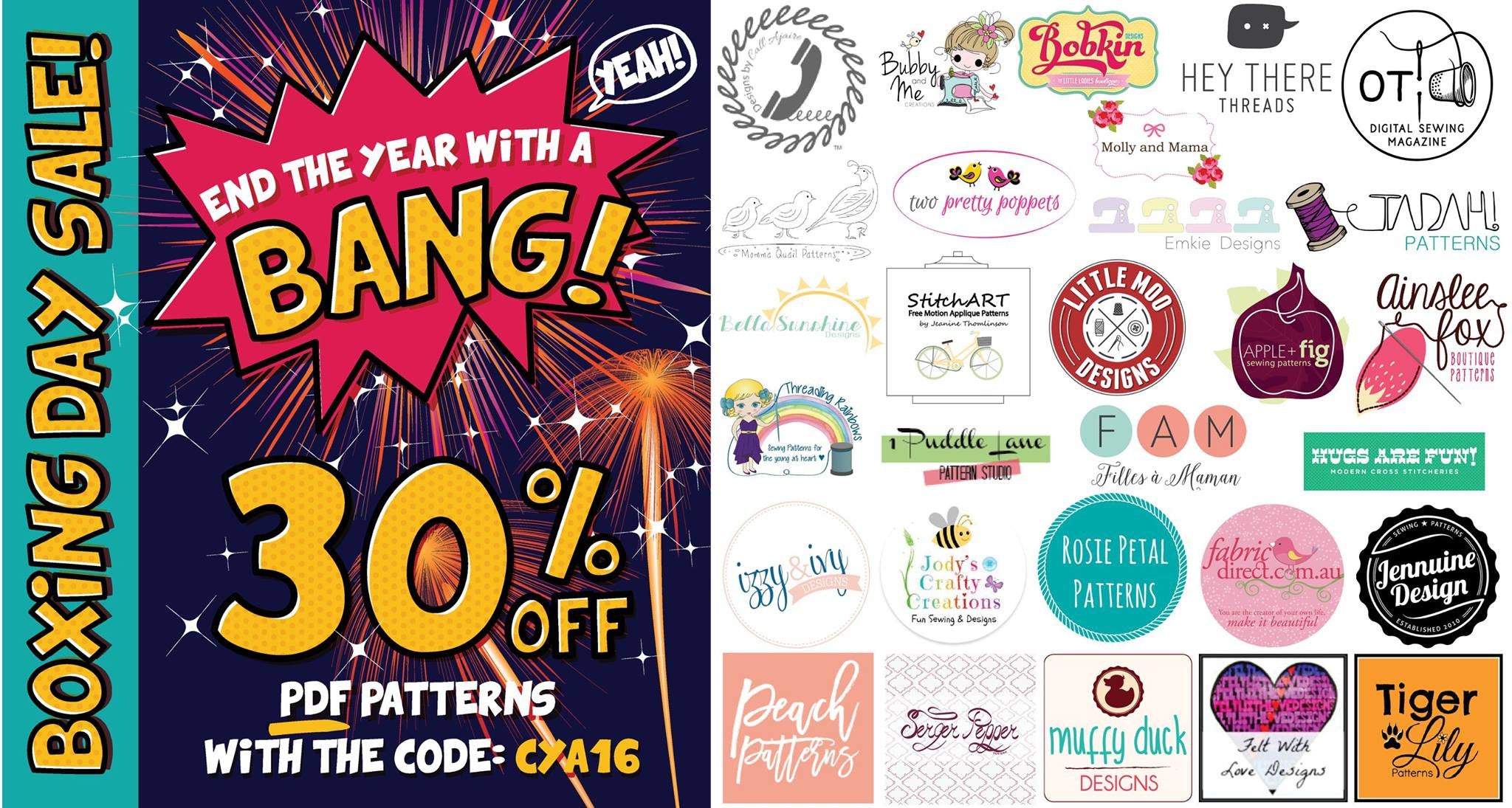 It's back! And it's just a fabulous as ever!
My wonderful friend Jen from One Thimble has once again gone above and beyond to bring together 28 amazing PDF designers in one HUGE Boxing Day Sales Event.
Here are all of the pattern designers taking part.. The sale for all of these businesses will run ALL DAY Boxing Day (wherever you are in the world!)
To get 30% off your PDF Pattern purchases from these businesses enter the code CYA16
Who is involved in the Sale?
1 Puddle Lane (no code required – price will be discounted for you at checkout!)
Ainslee Fox Boutique Patterns (or for non-dress patterns see the etsy store)
Apple + Fig
Bella Sunshine Designs
Bobkin
Bubby and Me (only PDF patterns)
Designs by Call Ajaire
Emkie Designs
Fabric Direct.com.au (only PDF patterns)
Filles a Maman
Felt with Love Designs
Hey There Threads (stand-alone patterns only)
Hugs are fun
Izzy & Ivy Designs
Jennuine Design
Jody's Crafty Creations
Little Moo Designs
Molly and Mama
Momma Quail Patterns
Muffy Duck Designs (excludes bundles, individual patterns only)
One Thimble (e-zines only)
Peach Patterns
Rosie Petal Patterns
Serger Pepper
Stitch Art
Tadah Patterns (print AND pdf patterns)
Threading Rainbows (no code required – price will be discounted for you!)
Tiger Lily Patterns (stand-alone patterns only)
two pretty poppets (single PDF patterns only)
So by Boxing Day do we mean Boxing Day where you live?
YES, Absolutely! The sale begins 12.01am 26/12/16 in Samoa and continues right through till 11.59pm 26/12/16 in Baker's Island … it runs for 50 hours to make sure we cover Boxing Day world wide!
So how long till it starts?
Here's a handy countdown! The Sale will begin http://bit.ly/2hbx2uk and end http://bit.ly/2hbq095
PLUS there are giveaways!
Make sure you check out the facebook pages of participating businesses for your chance to win pattern bundles! There's 4 pattern bundles up for grabs!
Hope you all have an absolutely fabulous Christmas and a very happy New Year!
Lauren x
---
1 Response
Leave a comment
Comments will be approved before showing up.