HOW TO: Print a PDF Pattern Using Layers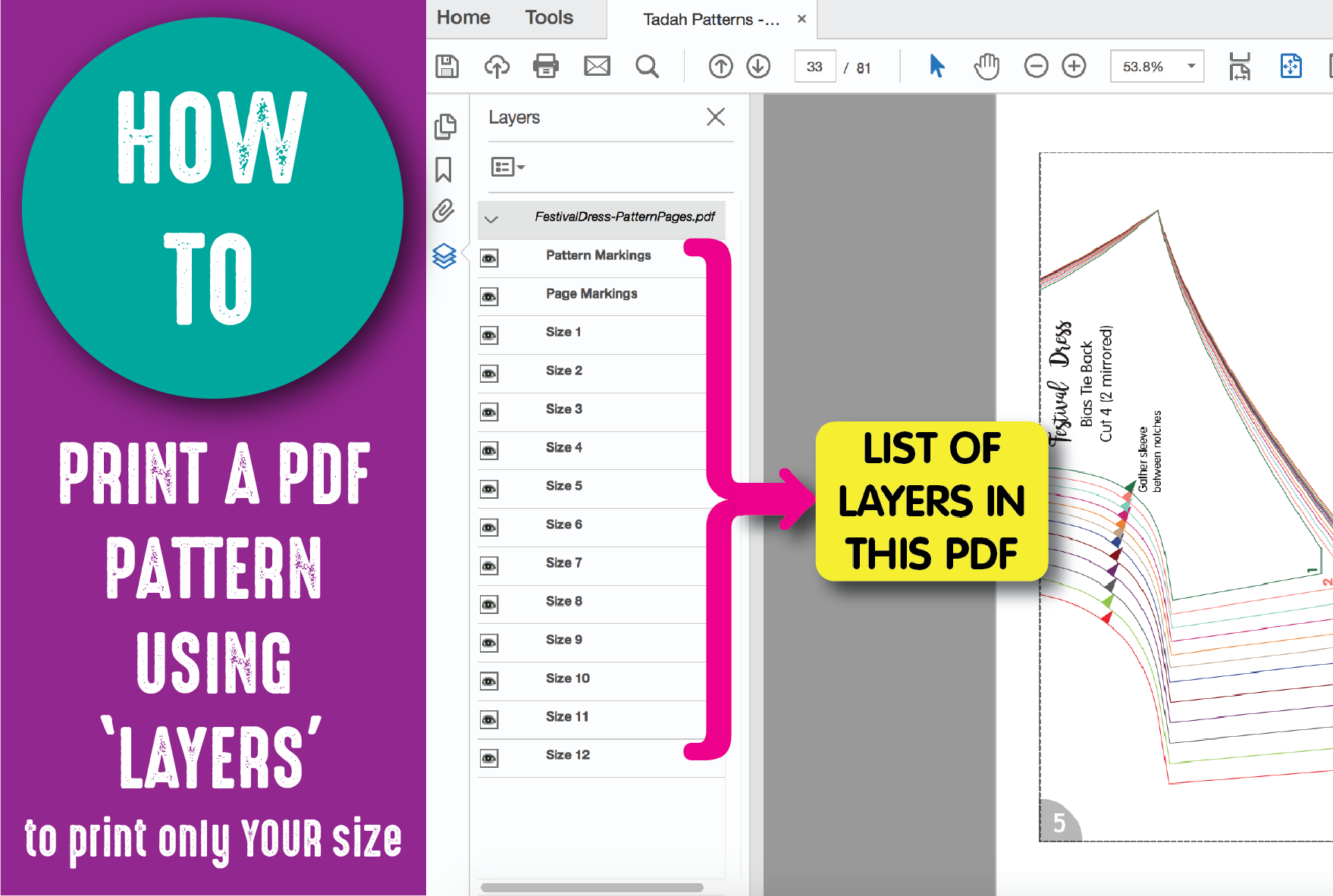 We are a little behind the eight ball with layers, but Tadah is finally joining the party and our Festival Dress (being released TODAY!) will be our first pattern to have the layers printing functionality. If you haven't heard of this before, or are a little unsure about how it works, read on for all of the info you need to know.
First things first - make sure you have the most recent version of Adobe Reader so that you can make the most of all of its fabulous features! You can download it for free HERE.
Next you will need to open your PDF Pattern with Adobe Reader. Often when you download your pattern it will automatically open in your internet browser and while this might be fine to read the pattern on the screen, it usually results in one of many problems when printing. So please MAKE SURE you ALWAYS open your patterns with Adobe Reader to print.
Once you have your pattern file open in Adobe Reader:
Select the layers icon on the left of the screen
OR use the dropdown menu at the top of the window to select
View > Show/Hide > Navigation Panes > Layers
Click on 'FestivalDress-PatternPages'
You will now see a list of layers in the PDF. There will be one layer for each size and then an extra layer for the page and pattern markings/labels.
You can select which sizes to print by clicking the eye icon next to the name of each layer. As you turn layers on and off using the eye icons, these changes will be reflected on the screen.
IMPORTANT: Make sure the 'Pattern Markings' & 'Page  Markings' layers are ALWAYS ON when you are printing, otherwise you will not see pattern/page labels and information , cut instructions, size markings, test squares etc.
When you are ready, simply print your pattern as you usually would - being sure that the scaling is set to NONE, Actual size or 100%.
TADAH! You have just printed your first pattern with LAYERS!
It is so simple and convenient once you know how it works (I'm preaching to myself here too - I was intimidated for a long time!)
Aaaaaaand now we all know how to do it, how about we slowly transition all Tadah Patterns to include layers? From now on all new release patterns will include the layers function, and in the New Year I will begin making my way through past patterns to update them too.
Happy LAYER printing everyone!
Lauren x
---
5 Responses
Leave a comment
Comments will be approved before showing up.