PATTERN HACK - Adding a double layer skirt to the vetur dress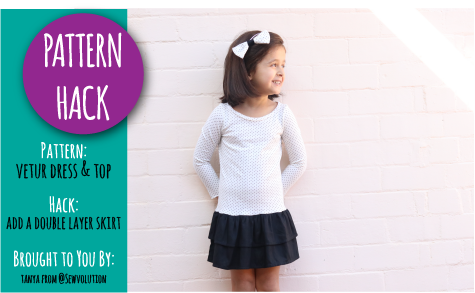 So now that the Vetur Dress is released, I can share with you a very simple but cute little hack to girly it up even more!
I give you the double ruffle cuteness <3 Tadah!!!!
My girls love a ruffle skirt and so when we were initially throwing around options for the Vetur I made a sample of this cute little double layer skirt. While it didn't make the final cut, it does make a fun and easy little pattern hack!
You'll need your Vetur pattern with the gathered or circle skirt option traced/cut out and some coordinating fabric or even the same fabric for your second (shorter) layer.
I highly recommend that you use a lightweight woven fabric like rayon or poplin. If you're using knit then stick with a knit that is lighter than your bodice fabric (180 cl or rayon knit or bamboo lycra) and use clear elastic - I cannot stress the clear elastic step enough
GATHERED SKIRT ONLY:
Cut your long layer as per the pattern and your shorter layer as per table below
CIRCLE SKIRT ONLY:
After you've cut your long length, use the tracing to mark your short length as per table below.
Start by making a mark at the short length measurement on your tracing at one side and repeat these marks several times moving your ruler or tape measure along the tracing.
Join your marks together, to form your shorter circle layer.
Sew up your bodice up as per the pattern. Sew your gathered skirt into a tube and repeat this for the short layer.
TIP: Hem both layers now as it's easier to do before it's joined to the bodice and you're less likely to overlock a hole into one skirt....ask me how I know...
Then place your long layer INSIDE of your short layer, wrong side of short layer facing the right side of the long layer, line up your side seams and place some pins to hold both layers together. 
Run two gathering stitches through the waist line of both layers (so you're gathering them together). If you're making the CIRCLE skirt version then I would suggest putting a basting stitch so your layers don't slide when attaching them to the bodice.
Gather to fit and sew to the bodice as per step 44 in the pattern.
TIP: it is VERY important for this option to use clear elastic to stabilise the waistline as we've made it heavier by adding another layer. If you zoom on my pics of my 4yo you can see the wavy bodice where it meets the skirt - I didn't use clear elastic on that one, but I did on the one for my 6yo.
MIX IT UP:
You can use just the short layer to make a tunic length that can be worn with tights under
Add some cute lace to the hem of the layers to make it super pretty
I'll have another simple hack for the Vetur very very soon... just a hint...my 4yo has been LIVING in this one!
Happy Sewing
T x
---
Leave a comment
Comments will be approved before showing up.