Meet The Maker - Alison Barnett - Little Seren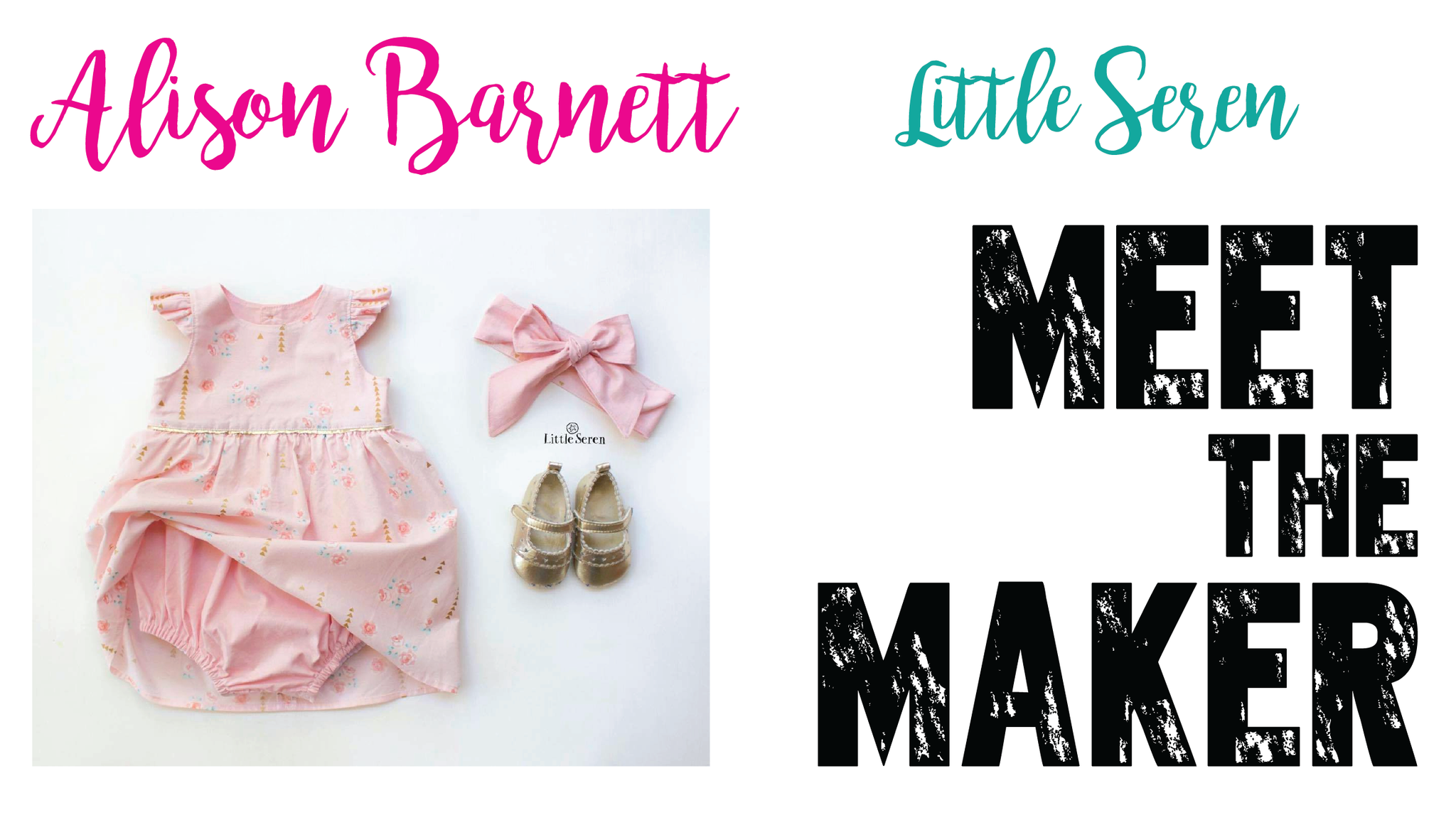 Hello everyone!
This fortnight I'd like to introduce you to Alison from Little Seren. She makes some gorgeously bright, geometric and stunning clothing - you will have seen her around in many of the sewing groups because she's always super helpful whenever people have questions. I love seeing her unique items around in the handmade online forums. I even got her to share a very rare sighting of herself!! And she's gorgeous!!
When did you start sewing?
 Since I was a child, I have loved art and craft. Pretty much every birthday and Christmas I would receive a new type of craft kit to try, or craft supplies, and I loved it! For my 30th birthday my family gave me a sewing machine. I set it up that night and have sewn almost every day since. Sewing became my new obsession, teaching myself from YouTube, blogs, patterns, and books. Now, every birthday or Christmas I get something sewing related- Yay!
Tell me about your Panda fabric, I love it! Is it hand stamped?
Yes. That is a stamp I carved, and I use it a lot in my fabric designs. It's very popular! It's also my avatar everywhere so Mel from Filles à Maman calls me Alison 'Le Panda' Barnett or Mama Panda 
Pattern used: Baby Tea Party Playsuit Option
What was the first thing you made? 
 When I got my machine, I was pregnant with my son who was born two months later. So, my first projects were all about baby things and maternity wear. I think the very first thing I made was a small stroller blanket made from one of my husband's old jumpers. It looked a bit plain so I added appliqué birds, making up the process as I went. That blanket got a lot of use, and re-emerged when my daughter was born three years later.
What inspired you to sew? Has this changed/ evolved during your journey?
I had always wanted to sew, and did try making a skirt when I was about 15 but my Mum had to finish it for me, and that was that. When I got my sewing machine, I wasn't going to let it go to waste, so it was time to finally learn. I'm very thankful to my family for their present- it's changed my life! A few years down the track, sewing is now everything. I just love to be in my craft room planning projects, at the machine, or just looking at fabrics and patterns (I could do that for hours!) and I even opened my own online store, Little Seren, a year ago. I am part of the online sewing community and am constantly inspired by all the other makers and designers out there. I really enjoy collaborating with like-minded people as a pattern tester and it has given me a new perspective and appreciation for pdf sewing patterns. I have also worked a bit with One Thimble magazine, and think the editor, Jen Kennedy, and all the contributors are just amazing.
Pattern Used: Seaside Dress/Top
What is your favourite thing to make? 
 Children's clothing is definitely my most favourite thing. Being kids they aren't as restricted by what is fashionable or acceptable, so you can have lots of fun with colours and prints, as well as interesting silhouettes. I also like dealing with the smaller sizes- tiny baby clothes are the cutest!- and I love being able to make clothing to suit my children's personalities and interests.
Do you ever sew for yourself? 
 Yes, I do sew for myself, although such projects tend to get shifted down my to-do list. I have made quite a few casual clothes and am currently working on a new top for myself, it's just taking a few months as other projects keep popping up. However, I am most inspired and have the most fun when I'm planning special occasion outfits such as for my work End of Year parties that are always themed.
What techniques would you like to learn in the future? 
 I want to know all there is to know about sewing! For starters, I would really like to work more with knit fabrics and fine tune those skills, and practise with delicate fabrics such as chiffon. I would also like to learn more construction techniques- it is so interesting to see how a pattern goes together. Lastly, if I had more time (and space in my craft room!) I would like to try screen-printing fabric.
Pattern Used: Seaside Playsuit
What do you like about Tadah Patterns?
Oh, only everything! Tadah! Patterns include really thorough tutorials so not only is the construction really well explained, but it's like having a sewing lesson- you pick up lots of new skills. I really like the designs- they are simple, practical, and very versatile. The possibilities are endless with these patterns! Also, Lauren, Tanya, and the Tadah! sewing community are so wonderfully supportive. People share the most inspiring creations in the Facebook group, and are always willing to help beginners. It is so great to see someone accomplish what they never thought possible with the help of Tadah! patterns- it is a great pattern company to start out with, but also has plenty for those more experienced.
Do you have a favourite fabric style/designer/colour palette you like working with? 
 Woven cotton fabrics are my favourite because of their stability and neat, crisp finish. I am drawn to simple, modern fabric designs- I'm a huge fan of Cloud 9 fabrics, teamed with strong, solid colours. Purple, teal, pink and navy are my favourites, so they tend to appear pretty often in my colour palette and I am also totally addicted to fabrics with metallic or neon highlights. I can't say no to those! If I can't find what I'm after, I like to create my own fabric designs using stamping, stencilling or fabric paint.
Pattern used: Peg Shorts
How do you keep (or not) your sanity running a successful business while managing kids? 
My most productive and inspired hours are in the day, but that is when I am looking after my children or at (my non-sewing related) work. So, I tend to spend all day planning projects in my head, making long lists, or thinking of business related tasks, and save them up for when the kids are in bed. Unfortunately, by the time that happens, I am usually out of energy! This can be very frustrating and I often feel so unproductive. However, once I get going, and the inspiration hits, I don't want to stop and I stay up way too late trying to get it all done. I do this because I have to create. I feel most content when I have time in the day to work through all the ideas and thoughts in my head, and achieve something. At the moment, that just happens to be at night. My children come first, housekeeping comes last, and sewing is crammed into all the spaces in between.
Are you a) choose the fabric, then the style or b) choose the style then the fabric? 
A bit of both. I have quite the fabric stash, so sometimes I get all my ideas from there. But most often, I start with a sewing pattern, and then find the fabrics to suit. I absolutely love planning new projects and finding the perfect fabrics!
If you didn't sew, what would you be doing instead?
 Housework! haha. If I wasn't sewing, I would definitely be practising some other kind of art or craft. At the moment, I'm considering learning screen printing and crochet, but really don't have the time. I would also be getting through the massive pile of books stacked next to my bed.
Pattern used: Chillax Pants
I do hope you've enjoyed getting to know Alison a little better, make sure if you see her around in the various groups, you say hello
I'll see you again in a fortnight with our next victim, I mean, maker hehe
T xx
---
3 Responses
Leave a comment
Comments will be approved before showing up.