Project Run & Play - Week 3 - Botanical Beauty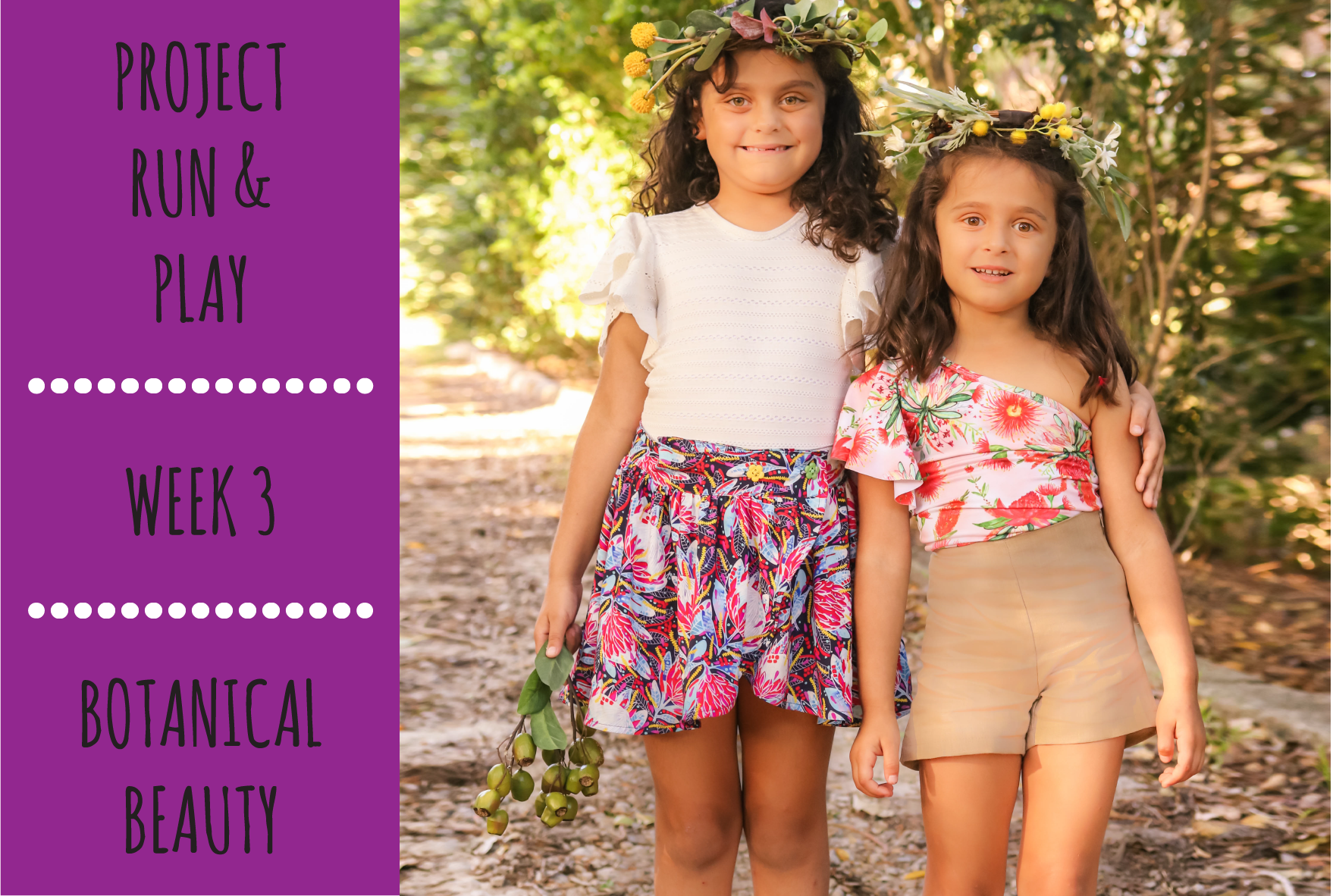 Ahhhh florals, how I love them and I LOVE Aussie florals the most. We live in a leafy little suburb near the ocean called Banksia, named after Joseph Banks, a botanist on the First Fleet who, in turn had a genus named after him - Banksia. We took a stroll down to our local park to take photos in front of the native trees and shrubs  
Ailish and I talked about her outfit for a week or so, she said she wanted to swish like a flower in the wind... not dramatic, at all..... I used the one piece version of a soon-to-be-released Tadah pattern and borrowed the flouncy sleeves from our Vetur Dress pattern. I used a beautiful flowy pointelle knit from Spotlight and lined it fully. 
Her skirt has a long and funny-but-not-really-funny story to go with it!! I was really excited about creating a beautiful flowy HiLo Maxi skirt for her, I cut it all out, sewed it up, went to take a late night snapshot to show Lauren and UMMMMM I'd cut the flowers upside down. Cue several swear words and a few tears as well, as it was the last of that fabric and I went back to the cutting board to make a new skirt with a different fabric - right way up this time! I used our Tulip Skirt pattern with this beautiful Waratah rayon from Sew Unique Fabrics and she spent a lot of time shaking her booty and twirling while yelling "I'm a flowerrrrrrr mummmmm" (total mum win!) I finished the skirt off with some super cute little flower buttons I found in my stash. 
I got these gorgeous native flowers from my very talented friend Kate from Baby Bowtique and added in a couple of flowers my girls picked themselves from local trees.
I wasn't quite convinced that Ashlyn's idea for her outfit for this week would be very wearable so we compromised, she's 4 so reality doesn't factor into her ideas! She wanted "a top with no straps and huge boofy flower bigger than my head on my shoulder!" it took some keen negotiation on my part but we settled for a beautiful, drapey flounce and a one shouldered top. 
I started with our Tea Party Dress bodice to get the armholes correct. I sized down as it's a woven pattern, re-drafted the neck to be off-the-shoulder, extended the bodice, added some waist shaping and the Vetur flounce. I used this beautiful Aussie floral double brushed poly from The Material Girl Australia to give the flounce that beautiful drape.  
For the shorts, I used our Peg Shorts to get the crotch curve correct and then drafted a high waisted, slim fit dress shorty short with a side zip. I used this beautiful linen from Dizzy Daisy Fabrics. 
If you'd like to see all the entries for Week 3 from all the other designers and vote for your favourite then head to the Project Run and Play blog and we will also be sharing some extras on our Insta and Facebook pages.
 If we're lucky enough to get through this round (VOTE VOTE VOTE!!) then I'll be handing over to Lauren for the final week - Signature Style and it's shaping up to be EPIC from what I've seen so far <3
Happy sewing
T xx
---
2 Responses
Leave a comment
Comments will be approved before showing up.