Project Run & Play - Week 2 - Surf & Sand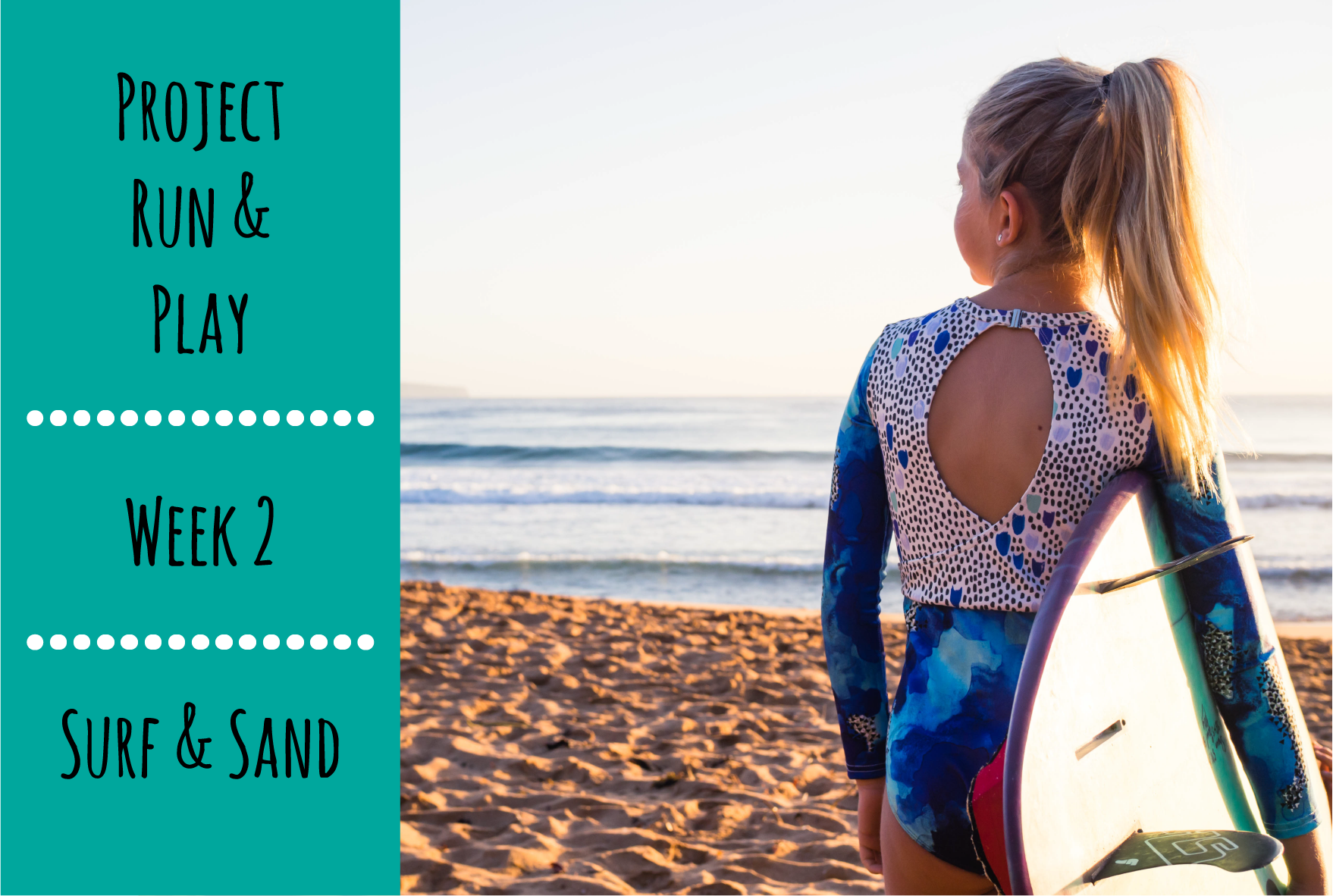 These little grommies are frothin over their new threads! And I am absolutely loving an excuse to throw around some surf slang! If you don't know – a grommie is a name for a kid who surfs, and 'frothin' means that you are really excited or absolutely love something.
Now that you have a few new bits of Aussie surf slang to add to your vocabulary, let's move on to the sewing fun. 
I have to say, when we were first asked to join Project Run & Play (and received the themes) this is the one that jumped out at me. Our little family lives on the Northern Beaches of Sydney where the surf culture is strong and engrained in almost every aspect of our lives.
When thinking about 'Surf & Sand' two activities pop to mind straight away – surfing (of course!) and swim club (a weekly swimming event at our local rock pool). I decided straight away that I would design two swimming costumes, one for each activity. I went in search of the *perfect* fabric and came across these incredible watercolour designs by The Little Ivie Cloth Co on Spoonflower. As soon as I saw them I knew they would be perfect – the blue of the ocean and the pink of the sky at sunset.
Finding the right fabric was the easy part. Next I needed to design!
Isla's Surfsuit
When I asked my oldest (Isla) for her input she only had one request – no zippers, clasps, ties or fasteners on the front that would dig in to her chest when she lays on her board. Sounds simple enough right? Ha!
I wanted long sleeves and a high neck for practical reasons, and anyone who knows me or my patterns will know that I am a sucker for a feature back! So I set about designing my first every pattern for spandex and I am not shy in saying that it was so incredibly fun! I added a subtle 'v' to the front of the suit for interest and to show off both of these stunning fabrics.
I love a clean finish so the inside of the surfsuit features enclosed seams on the side seams, shoulders and crotch. The neckline is finished with bias and a little metal clasp at the back.
Asali's Two Piece
Asali is a competitive little thing so she wanted some swimmers to help her fly through the pool! She really likes wearing two piece swimmers (the less fabric the better in her mind!) but I wanted to make sure the design was age appropriate and not just a tiny version of an adult bikini. It is really important that the swimmers are practical because this kid does not stop moving – if she isn't racing, she would be running along the beach with friends, climbing the rocks or doing "tricks" on her board. I had to be sure the top of her two piece would stay in place no matter what crazy moves she was doing! There were several design ideas (So. So. Many!) that I would sew up and try on her after school each afternoon .. some made it to the water test, but most did not. In the end we decided to go for a longline crop design with a thick elastic band at the bottom to keep it in place. The inside has all enclosed seams and the neck is finished with bias and a gorgeous rose gold clasp.
We took both swimmers to the beach at sunrise and they passed the surf test fabulously! And they also passed the tween style test which is even more amazing! Isla is already taking orders from all of her friends. I'm not sure who she thinks will be sewing them all.. haha!
Après Surf
Everyone knows that a sunrise surf has to be followed by smoothies at the local café! I made each of the girls an item that they could throw on over their swimmers to take them from beach to café in style. Isla has a pair of flat front Peg Shorts with pockets, cuffed hems and sea shell buttons on the waistband. I chose Robert Kaufman chambray for these shorts because it so soft and comfy to wear but gives a nice tailored look.
And Asali wears a playful little high waisted Tulip Skirt which also has a flat waistband and a little sea shell closure. For this skirt I chose Art Gallery Mediterraneo fabric (designed by Katarina Roccella) because the colours fit so perfectly with the theme.
I also made a fabulous big beach bag for for this weeks theme but it didn't make it in to the flat lay so I decided not to add it as an "official" item for Project Run & Play. Nevertheless we love it! And we have been using it for so many things - beach bag, netball bag, work bag.. so many uses!
It was made with Premier Prints canvas fabric and features some raw jute that I found in my local hardware shop and plaited rope straps that are attached to the bag through eyelets.
I had so much fun creating these looks for the week 2 theme of 'Surf & Sand'. They are absolutely the style that my girls live in and I know they will be worn again and again this summer! If you love what we have created it would be fabulous if you could head over to the Project Run & Play blog and VOTE! You will also be able to see what the other incredibly talented designers have made for this theme too.
Now I will happily pass over to Tanya for week 3 :)
Lauren x
---
3 Responses
Leave a comment
Comments will be approved before showing up.