Meet the Maker - Jen Kennedy - One Thimble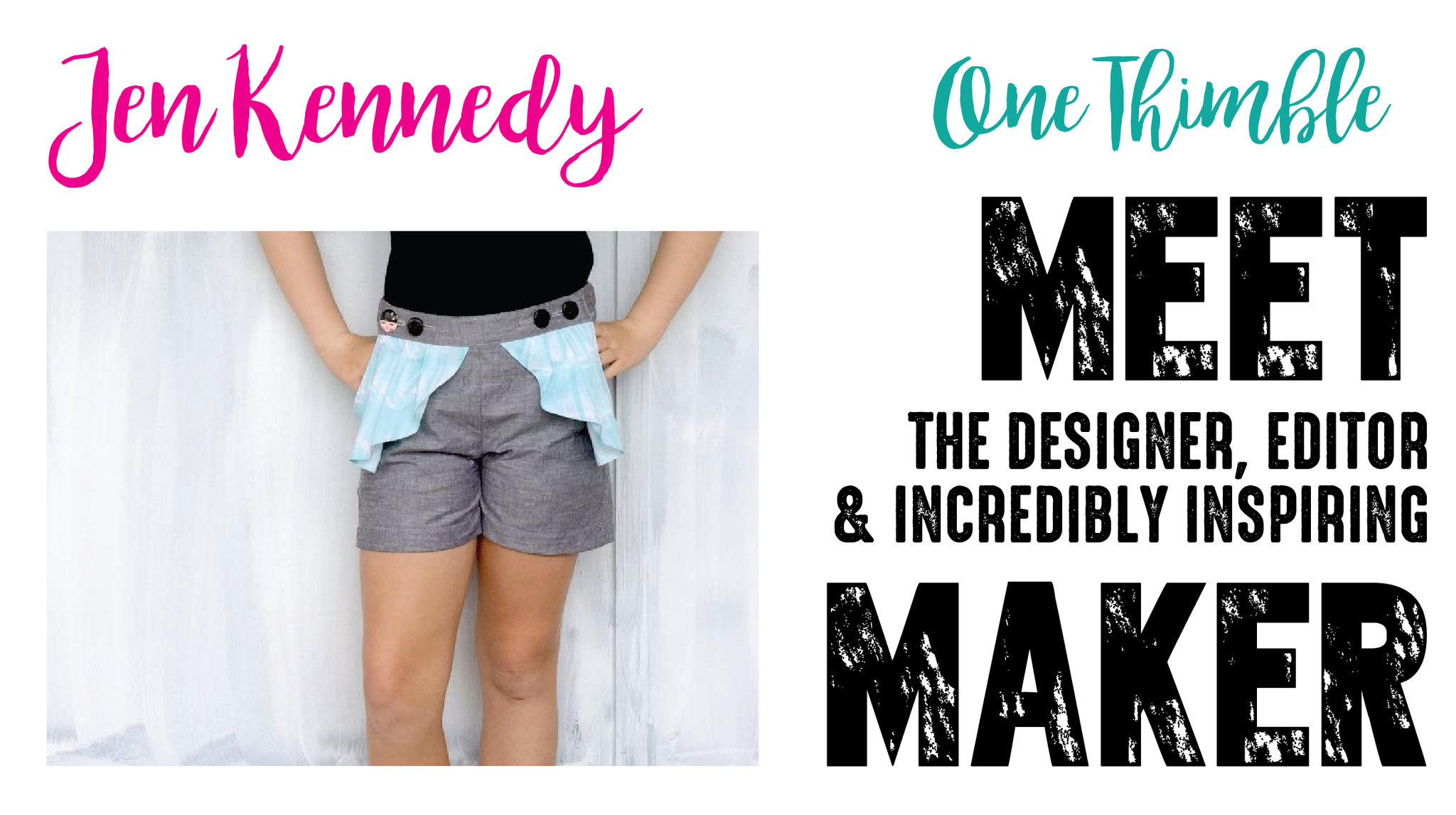 Last Wednesday I was lucky enough to video chat with Jen Kennedy, in hindsight it was also International Womens Day and really what a coincidence that I got to chat to a very inspiring woman! I'm not sure how many of you know, but Jen started off as one of my favourite handmade businesses. I still own, I mean my kids still own, a few AFH Pinnies and they love them. Jen then went into pattern making with Ainslee Fox Boutique Patterns where she designs and creates some of the most unique, gorgeous, and easy to read patterns. She's also the founder and driving force behind Collaborate for a Cause. C4aC continues to blow my mind each year; if that's not enough, she is also the founder and editor of One Thimble – honestly, she's superwoman!! Perhaps the most endearing thing of all is that she is also the most kind, helpful, inclusive and inspiring person I've met in handmade, in my eyes she is AMAZING! 
How did you get into sewing? 
When Katie was born, Paul was working as an international tour guide and away for a month, then back for a month. He was going to be away for my work Christmas party (which was in October) and there wasn't anything in the shops that was Christmassy. I thought, "how hard can it be? I'll make her something". Off I went to Spotlight and bought a pattern and fabric. I borrowed a friend's sewing machine and made Katie a dress … and it was terrible!
 For some reason, I thought seam allowance was dependent on how good a sewist you were. So, in my head, if you were a terrible sewist, then you had to use the 1.5cm stated on the pattern, but if you were really good then you could sew closer to the edge. I used a 0.5cm seam to prove how good I was!! I seriously have no idea how I could have thought that. It doesn't make any sense at all! I think I'm going to have to claim sleep deprivation, haha. 
My background is in community pharmacy as a Pharmacist. As a pharmacist, you do make a difference to peoples lives, but you don't get to see it. There's nothing tangible at the end of the day. With sewing, at the end of the day you get to see what you've achieved. It totally blew my mind, how satisfying and fulfilling I found sewing to be.
I've been sewing for just over 9 years and there are still so many things I'd like to learn about sewing and so many projects I would like to have a go at sewing. I love that even if I sewed for the rest of my life I'd not get bored because there is so much still to learn and try.
 Was it a natural progression to pattern making? 
I think so, when I started Ainslee Fox I sewed a bit of everything. Pattern making came about because I needed to learn how to make the patterns for the dresses I really wanted to sew.
I probably should say I've had a master plan for my businesses from the very start (bwahaha), but it's all really been a case of one thing leading to another.
Do you have a favourite pattern? 
I think my favourite patterns are my party dress patterns. I can't really choose between them!
I love the Disco Dress because it was my first dress pattern, and it's still my most popular. But I also like challenges and I was most challenged by the Billie Dress. I love the Bow Peep Dress because it launched One Thimble and the Azure because it was my most 'over the top' special occasion dress to that point.
What was your inspiration behind OT? How did it evolve into what it is today? 
With One Thimble, I wanted to make the magazine I wished I could find. I wanted it to be on trend and seasonally appropriate for Australia. I wanted it to focus on kids wear and to have the patterns be usable for handmade businesses. I wanted it to have inspirational images and patterns and to have articles to build sewing confidence. I also realised how overwhelming it is when starting out as a self-taught sewist. I wanted to connect small handmade businesses & self-taught sewists with those aspiring to help them.
 One Thimble has evolved over the past 3 years through the amazing and continued efforts of a group of very talented contributors. Of course, without the continuing support and feedback of our truly wonderful readers, there would be no One Thimble, I would like to thank them all for their continued support.
 Handmade and sewing has utterly changed my life. I believe that living a creative life helps you be a better mum, wife and person because you're happy. That has been my experience anyway. That desire has been the driving force behind all that I do. I hope that through the vehicle of One Thimble I'm able to help inspire and build confidence in other mums.
 I know it would be like choosing a favourite child but do you have a favourite issue of OT? 
I probably like issue 14 the most.
 Every issue I think "I love this so much", "This is my favourite". Then "the fear" sets in and I think "Oh how on Earth can this next one, be better than the last one". Then I start working with Chrystal and our contributors on the next issue and somehow it does work out.
I think the most recent issue is always going to be my favourite because I feel like each one is better than the one before. I'm learning so much every time.
 C4AC continues to blow me away each year, with the passion people put into their submissions - from the smallest to the biggest - Where did you get the idea of C4AC? 
It was 2011 and a number of things were going on in handmade that made me realise that not everyone was having the same journey as I was. I always felt so supported and encouraged by other business owners. The idea for Collaborate for a Cause was to try to help other people make those connections that would help them feel supported on their handmade journey.
Also in 2011 I was first introduced to facebook charity auctions through the charity auctions that took place to raise money for those effected by QLD floods. I was so blown away by the way people came together. It occurred to me that it would be a lot harder to raise money in this way for smaller charities or less wide spread causes. I thought that a platform to enable people to raise money for causes close to their hearts would be pretty fab!
A question from Lauren - what are your top tips for staying organised and on top of deadlines? 
I try to be organised, but it's probably more like organized chaos! At the moment I have a series of diaries that keeps me on track. I have my "to do list" diary and another diary where I write down my social media planning. Every issue has its own book, to keep track of that issue. I also often use sticky notes for urgent to do lists. I have Trello which is an organizational app on my phone/computer, that I use when planning issues with contributors and I've just started using google calendar. It totally shouldn't work, but somehow it does.
Probably my top tip is to try out different systems to find one that works for you. What works for one person mightn't work for someone else. Some people work well with diaries and lists and others prefer virtual tools. Don't be afraid to change your system if it's no longer working for you.
I'm a big believer in backwards mapping (all you teachers out there know what I'm talking about) for staying on top of deadlines. I start with the final due date then break it down into smaller tasks and put those smaller deadlines in my diary. It makes the end task seem more achievable.
Can you talk me through your creative process for OT? - coming up with themes etc.
I work very closely with Chrystal (from Poetic Light Photography) on issue themes. We usually have half a dozen or so secret Pinterest mood boards on the go with themes. One of us might start noticing a particular trend or have an idea for a shoot then we expand from there gathering inspiration. When it comes time to pick an issue theme we usually go with whichever we're most excited about.
 Once we have the theme, we talk about what sort of patterns might work or what shoot locations and fabrics we'd like. Then I put together a pitch kit with inspiration from our secret Pinterest mood board and send it out to people interested in contributing patterns. We add them to the secret Pinterest moodboard so they can see where we're heading.
 It's always exciting to see the pitches come in. The hardest thing is always choosing the patterns. Sometimes someone will pitch an absolute winner of a pattern, but it needs to work with the other patterns in an issue. It's really important to get the right mix of patterns. We want patterns that will appeal to a broad range of people and a range of difficulties so they'll challenge people, but also be achievable.
Totally a self interest question here - Would you ever consider releasing a limited edition of some of your patterns that YOU have sewn? 
I'd love to do that. But it's just a time thing really. As much as I'd love to, realistically I can't see it happening anytime soon.
Are you wearing handmade right now?
Yes! I'm wearing one of my Washi Dresses. I'm addicted to that pattern – I've adjusted it to fit me perfectly along the way and I've got probably 10 in my wardrobe!
The Aussie handmade scene is huge, and at some stage I believe all of us have been inspired by you. Who inspires you? And why? 
My readers! Oh my word they create some of the most amazingly beautiful things! I see people who have never really sewn much before make their first dress for their daughter, or a shirt for their son. It just fills me with so much joy. It inspires me to try harder and to make One Thimble better and better each issue!
Care to share a pic of you and your creative space with us? 
Now, I've seen her sewing room via FaceTime and it's nearly the size of my house... such an amazing space to be creative in.
I can't begin to thank you for your time, Jen, it was such a pleasure to chat to you and get to know you a little better. I hope you all enjoy reading about this truly inspiring woman!
Happy Sewing
T xx
---
3 Responses
Leave a comment
Comments will be approved before showing up.