Meet The Maker - Sandra Morris - Sweet Lily Boutique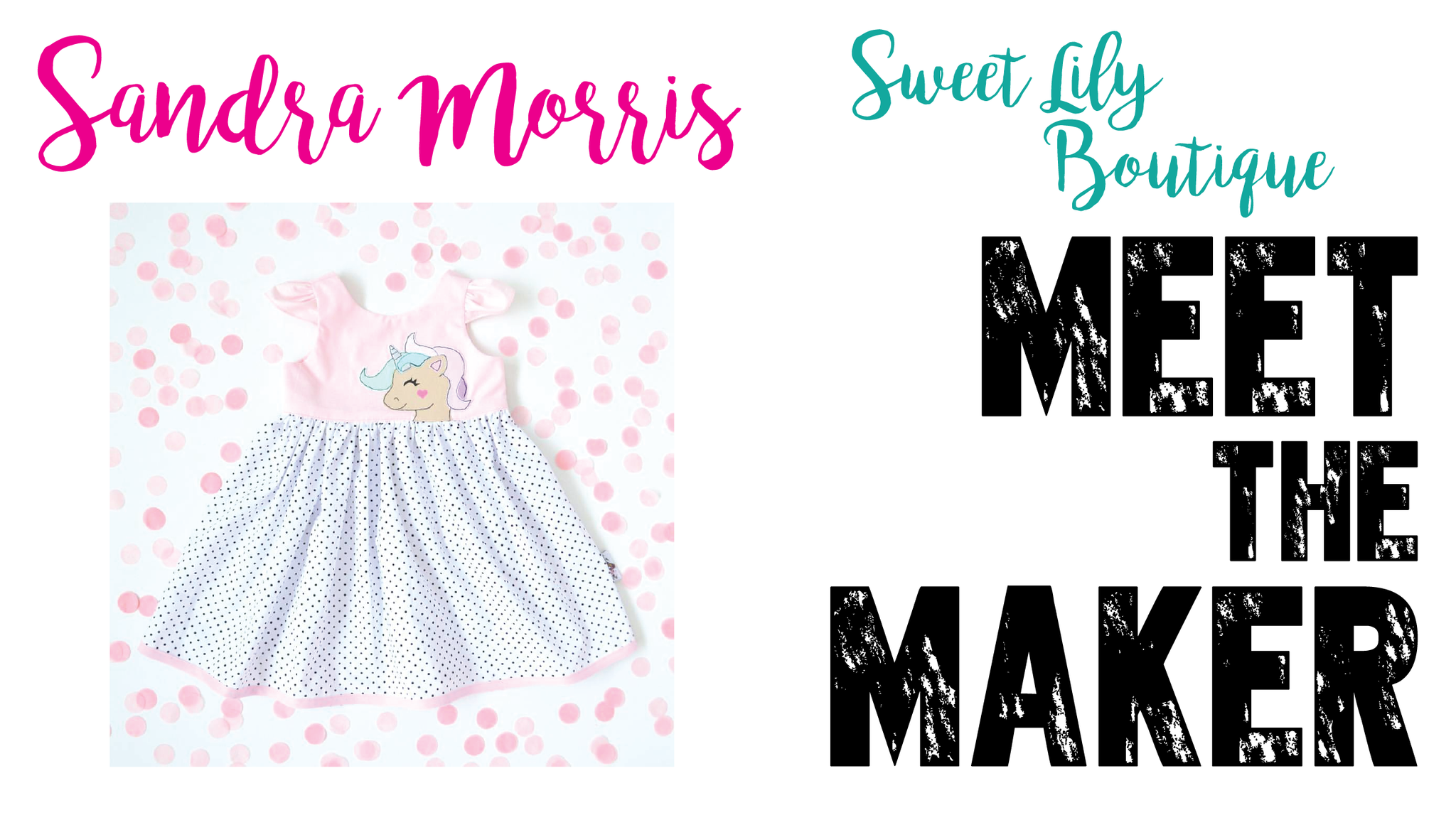 Hi Everyone,

This is fast becoming my most favourite segment for Tadah! Don't get me wrong, I enjoy the sew-alongs a lot but I love, love, love reading all about these wonderful ladies, whom I admire so much and their journeys and getting to know them a little better.
Today we're going to meet Sandra from Sweet Lily Boutique, you'll know Sandra from her divine Unicorn and Bunny TPD's and BTP's
Tea Party Dress with makers own applique


So, let's get into it!


What did you do before Sweet Lily?
Before Sweet Lily Boutique I worked as a professional makeup artist for Napoleon Perdis and Clinique.


When did you start sewing?
When I was pregnant with my daughter, Lily, I started to notice all these beautiful handmade outfits being made and thought to myself, "I could make these"! I joined the Tadah Pattern Party group and off I went.


What was the first thing you made? 
The first thing I ever made, was a Seaside Top and matching ruffle bum nappy cover for Lily. (Both Tadah patterns of course).
Tadah Seaside with Sandra's own hack which she has kindly agreed to write up for the website


What inspired you to sew? Has this changed/ evolved during your journey?
When my little girl was born I wanted her to wear beautiful and unique outfits that you just cannot find in stores! I wanted her clothes to look as beautiful as she did, so I turned to the world of "Handmade" and my passion to design and create rare and one-of-a-kind pieces grew from there.


What is your favourite thing to make? 
My most favourite thing to make would have to be the Tea Party Dress. I have made more of these dresses than any other pattern available. I love to add my own unique touch to these dresses, by adding my bunny or unicorn applique.


Being inspired on a daily basis by all the extremely talented hand maidens out there.


What does your studio look like? Want to share a pic with us?
My studio is my most favourite room in the house, I love it so much. Its very white with gloss white cupboards and a lot of handmade decorations to brighten the room. Sure! :)


Let's just all take a minute to drool.....


What do you listen to while you're creating? 
I have my laptop next to me and I love listening to Adele and Taylor Swift, as well as my favourite comedians and makeup gurus on youtube.


Do you ever sew for yourself? 
There has been so many times when I finish an outfit and think, 'gee I would love this in my size'! But no, I have not sewn anything for myself.


What techniques would you like to learn in the future? 
I have never actually sewn with zippers! I would love to try the tea party dress hack with the zipper back.


What do you like about Tadah Patterns?
Honestly, what's not to love!? The Instructions are so clear and well presented. I love the table given for printing the pattern pieces. I love the support you receive from the ladies in the sewing group. I love how I can just trust Tadah patterns to be true to size, and I Love how easily you can add your own touch to each pattern to make your items unique.
Do you have a favourite fabric style/designer/colour palette you like working with? 
I love girly fabrics and pretty florals. My favourite designer is Art gallery fabrics and Riley Blake. I think I own just about every single shade of pink available from the Riley blake solid collections.


How do you keep (or not) your sanity running a successful business while managing kids?
My children go to day-care three days a week, and on those three days, between 9 and 5, I sew my heart out! I also get quite a bit of time during the night to sew, as they go to bed at 7pm.


Are you a) choose the fabric, then the style or b) choose the style then the fabric? 
I definitely choose the fabric first! As soon as I see a fabric I like, I instantly know what I'll make from it!
If you didn't sew, what would you be doing instead?
I'd probably be doing a lot more housework!


Tell us one thing about yourself that we might not know?
Do you ever have your hubby help - what is he good at doing? 
Yes! I sometimes have him help me cut out patterns and package up orders. He loves to come into my sewing room and ask me if I need more shelves, or if he can build me more storage or hanging space. He is always trying to make my work easier for me too... Like my KAM snaps machine was hurting my wrist one day from having to apply snaps onto 30 rompers... he comes in with a long orange pipe and some wood..  lol, lets just say his new invention worked a treat!


Share a photo of yourself, if you're comfortable doing so. 
What is one sewing tool you couldn't live without (other than the obvious ones)?
I definitely could not live without my button hole cutter or fabric glue stick!


Do you prefer customs or having seasonal releases?
I love both! I love working with customers to create something truly special, while I also enjoy the freedom of being able to design my own outfits.
You guys should check Sandra's store out online - It's one of the prettiest websites I've come across lately and the Planner for Handmaidens is a fabulous resource for you to keep your orders and customer details all organised.


I hope you've enjoyed this interview as much as I have <3
---
3 Responses
Leave a comment
Comments will be approved before showing up.