Project Run & Play - Week 1 - Patriotic Parade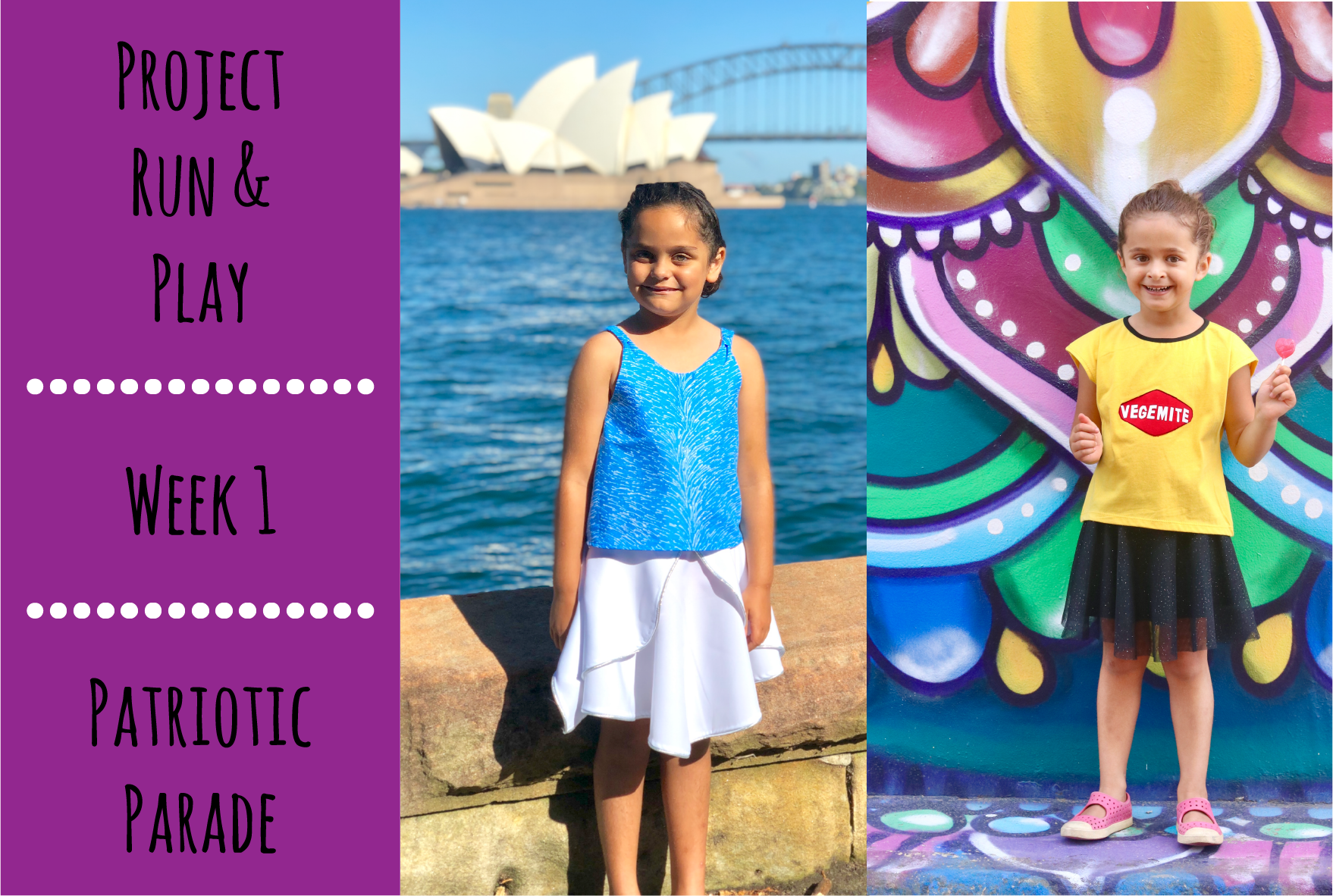 Hi Everyone,
Welcome to week 1 and the theme of Patriotic Parade. I went through about sixty bazillion ideas for this week before I ran it past my kids and they chose the two we ended up with. 
Our gorgeous, sunburnt country is such a eclectic mix of landscapes, food and cultures and that is reflected in my two very different looks for this weeks theme of Patriotic Parade!
I drafted this crop blouse with a round neck to represent the harbour bridge (albeit upside down!) and the shoulder feature is the towers at each end of the bridge. I used this beautiful fabric designed by indigenous artist Roseanne Morton, called Dropping Seeds, to represent our beautiful blue harbour. 
The layers on the skirt represent our opera house, which is a favourite location for our family. We've seen some wonderful pantomimes and concerts in those great halls. 
"We're happy little Vegemites, as bright as bright can be" is a song almost every person from my generation can remember word for word.  Love it or loathe it, it is an iconic part of our culture. My kids and I love it, so we thought it was only fitting to make a Vegemite outfit to represent the "aussie" food we love. I used the Tadah Dolman tee for the top and hand cut the little letters in iron-on vinyl to make this super cute little Vegemite Top. I borrowed the circle skirt from our Breeze Dress pattern and adjusted it to be a skirt only and then layered it with some sparkly black tulle for the "vegemite"
You can see all the entries for this week on the Project Run and Play blog. AND if you'd like to follow along and sew up the weekly themes, all the details are on the PRP blog - you can win yourself some awesome prizes!
I'll be handing over to Lauren for Week 2's look and I'll be back for Week 3 <3
Happy sewing
Tanya
---
1 Response
Leave a comment
Comments will be approved before showing up.